Waste Less Food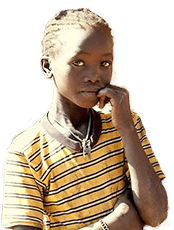 Are you able to help us support this project?
Go to our Get Involved Page to find out how you can support us.
The Need
One third of all food harvested in Uganda is lost before it gets to the people it is meant to feed. Most of this is due to poor post-harvest handling and lack of adequate storage. This level of inefficiency has huge economic, social and environmental impacts.
Reducing this food loss can therefore create a triple win:
When farmers retain more of their harvest, they boost their income helping families pay for essential healthcare and education
Wasting less food means feeding more people and beating hunger
Reducing loss alleviates pressure on precious environmental resources such as water and soil.
Our Response
We have partnered with a local Ugandan NGO called CIRIDE to set up a Waste Less Food project in Namalu, northeast Uganda. The project works with 300 farmers to reduce food waste on their farms, provide improved grain storage such as air-tight grain bags and metal silos, and maintain a 30-ton community store to ensure food security.
Since providing the initial funding to set it up in 2016, the project has become self-sufficient and continues to benefit 300 farmers every year and to fill the 30-ton community store to provide food security for the region.
Expansion
In 2018, we partnered with a local NGO in eastern Uganda, called EADEN, to build a second Waste Less Food project with 400 farmers in Nawandala.
In 2020, we set up our third Waste Less Food project, again with EADEN, this time with 400 farmers in Budhaya.
Ambition
Our Waste Less Food project is a cost-effective and sustainable approach to increase community food security, help protect the most vulnerable people from price rises and improve farm income to pay for basic needs such as health and education.
We are eager to set up new projects, to benefit more people, and you can help us expand:
£2 will help buy a 100kg airtight grain storage bag
£10 will help train a farmer to reduce food losses after harvest
£100 will help buy a 1-ton metal silo for on-farm storage
£12,000 will help set up the next Waste Less Food project
To find out more, email our project coordinator Will at williamtsurman@gmail.com