Budaka Cheshire Rehabilitation Centre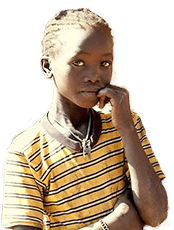 Are you able to help us support this project?
Go to our Get Involved Page to find out how you can support us.
The Project
Budaka Rehabilitation Centre is a charitable organisation started in 1970. The purpose of the Centre was to improve the quality of life for children with disabilities in Pallisa and surrounding districts in a relatively poor agricultural area in Eastern Uganda. Disabilities dealt with include polio, club foot, osteomyelitis, burn contractures, cleft palates and hydrocephalus. Currently, Sister Margaret Itadal is in charge of the Centre. Short-term rehabilitation programmes are carried out including identification and mobilisation of the children, sensitisation of their community, medical or surgical treatment, provision of appliances and follow-ups. The centre is responsible for finding the children in their homes and convincing their parents that they can be helped in the Centre and in hospital, a fact which many people in the village doubt.
Budaka Centre is a FOAG supported project which never fails to deeply move those who call in. Every day is a daunting financial challenge to Sr. Margaret and her staff, and yet the love and care which 'her' children receive is unfailing. To be entertained and greeted by disabled children who, on the face of it, have no reason to smile whatsoever, is a humbling experience...even to the most seasoned visitor. The Budakas of this world remind one of a true sense of perspective in an age where real values are often so distorted.
The Current Position
With FOAG funds, it was possible to fence the Centre. This fencing ensured that no vulnerable children were able to wander off from the Centre. It is also now more difficult for intruders to get in which has happened on a number of occasions. FOAG was also able to supply funds for new kitchen stoves and renovation of the kitchen. This has been a great asset to the Centre. Sister Margaret Itadal stated that they were now able to cook without choking on the smoke and fumes.
Budaka Cheshire Centre is participating in the FOAG Grow More Project which is monitored by Patrick Walusansa. Sr. Margaret is very keen on this project as it involves the children in growing different crops.
Budaka now has 42 resident and 30 day children. Over 30 children have benefited from medical treatment and/or surgery during the past year.
Budaka and FOAG History
When FOAG first looked at Budaka, the Centre was in poor shape, with neglected buildings, poor living conditions for the patients and problems with the agricultural enterprises. For various reasons there has been a dramatic change to which FOAG has been a major contributor, with improved water supply systems, new beds and mattresses and currently with new fuel-efficient stoves, as well as regular funding for children's operations, treatment and medicines. The whole place looks better - buildings repaired, crops growing, productive animals and children looking more cheerful, not least because they no longer have to hand-pump every drop of water.
The Centre works hand in hand with the community-based rehabilitation worker, parents and carers to bring the disabled children for assessment at the Centre. Arrangements will then be made for them to be taken to Kumi Hospital to be seen by doctors and surgeons for treatment and possible operations. The children who stay at the Centre are those who need further treatment and help until they are fit to go back to their homes. Sometimes their strength has to be built up by proper feeding before they can undergo surgery. The children attend the nearby schools during the day if they are well enough.