St. Francis Rehabilitation Centre, Soroti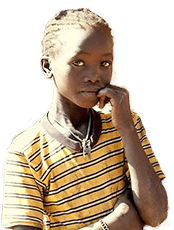 Are you able to help us support this project?
Go to our Get Involved Page to find out how you can support us.
The Project
The Centre is in the charge of Sister Sylvia Aketch who has energetically gone about transforming it over the years. This has required outside funding mainly from The Liliane Foundation – a Dutch charity and FOAG
The St Francis Centre finds children in the surrounding rural communities with various physical disabilities and in need of corrective surgery. They are often living in wretched conditions and are a real strain on the family which is ill equipped in every way to give these children the opportunities they need. Sister Sylvia arranges for their operations at local hospitals, mainly Kumi which is only 45 kms away. Often the children need special nutrition and medication before having surgery and they are understandably very nervous about the process . For more complicated cases they may be taken to Corsu Hospital, between Kampala and Entebbe. The Centre aims at 25 operations per year (about 15 are funded by FOAG). They may require crutches, wheelchairs and/or prostheses and physiotherapy. Pamba provides them with rehabilitation and then focuses on their education including vocational training to enable them to be confident, useful members of their communities when they return home.
Uganda has recently made significant changes to the governance of what were Children's Homes. There has been a recognition that it is important that children wherever possible do not spend years in a home and become institutionalised so that on leaving they have lost contact with their family and their community which can cause a loss of their identity and make it very difficult to find their place in the world outside the Centre. Recent legislation now means that all children who go to a Children's Centre for a particular intervention – surgery, nutrition, education, physiotherapy to maximise their ability to take their part in the community and become an asset rather than a cost to their family, must, wherever possible, regularly go home and stay no longer than necessary in the Centre. This whole process ideally gives them "self worth" which their families recognize when they go home for the holidays. Help is also given to the families learning to cope with a disabled child. Child Protection legislation has also been put in place.
The Current Position
Luckily a new physiotherapy unit has recently been built, funded by the Liliane Foundation. It has had the final lick of paint and finishing touches from a legacy left by Betty Hudson, a founder member of FOAG who sadly died this year. She visited St Francis many times and would have been delighted to see the Physiotherapy building completed in her name.
There are plans to extend the Resource Centre for teaching Carpentry, also there will be a further extension eventually, for computer teaching.
There is a bakery on site (funded by "Bake for Life") which teaches baking and business skills. At present it employs 18 ex-residents, enabling them to live independently in their own homes. Other ex-residents have returned to their own villages where they endeavour to set up businesses with sewing machines, donated through FOAG
The centre is in much need of resources, our focus for 2020/ 2021 and we will appreciate any help for the following:
6 children will go to senior school @ £56 per term each.
10 operations per year @ £150 (minimum) each
2 children need 2 artificial legs each @ £100 per leg
10 mattresses @ £20 each
20 Primary schooling expenses (uniforms, scholastic materials) for 20 children @ £8 per term each
History
FOAG has worked with this Centre for physically disabled children, near Soroti in NE Uganda for many years