Butiru Cheshire Rehabilitation Centre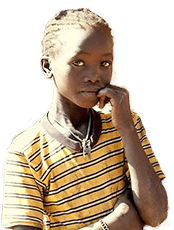 Are you able to help us support this project?
Go to our Get Involved Page to find out how you can support us.
The Project
FOAG has been involved with the ongoing commitment from year to year to provide funds for operations for disabled children since 2002. The major disabilities that are handled at Butiru are polio, cerebral palsy, congenital deformities like club feet, epilepsy, hydrocephalus, spina bifida, T.B., burn contractures and hare lip.
The deaf and blind are referred for specialised care. Butiru often provides help and care for malnourished children.
Head of the Centre Sr. Catherine Nabutyeka has wonderful dedicated staff who assess the children when they come to the Centre, and refer them to Kumi, Mbale or Corsu Hospitals for operations. The children return to Butiru for rehabilitation and primary education at the adjacent Busumbu Primary School.
FOAG has been able to help with providing funding for a generator for the orthopaedic workshop, an ambulance for the transport of children to and from the hospitals and in 2011 a new motorbike for Robert, the Physiotherapist and his assistant Florence who visit the outreach clinics in remote hilly areas.
The Current Position
Operations cost from £60 - £250 depending on the severity of the disability.
For 10 years FOAG has been raising money for operations needed by disabled children at Butiru; this is an ongoing commitment and FOAG continues to need more funds as operations are becoming more expensive. Seeing a child who could only crawl on their hands and knees being able to walk upright thanks to an operation and the wonderful aftercare they receive at Butiru is a most rewarding sight for the child, the family and the staff at Butiru.
FOAG also helps to find sponsors for children who would like to go to secondary school. Primary education is free in Uganda but fees have to be paid at secondary school. Four children are being educated at secondary school thanks to the generosity of sponsors from FOAG. This is a wonderful way of helping a disabled child to receive a good education so that they can ultimately earn a living.
Butiru History
Opened in 1964 Butiru Rehabilitation Centre is located 280km north east of Kampala. The emphasis of the work is on short-term rehabilitation for the physically disabled, especially children. In 1992 a vocational training school for tailoring skills was set up. The Centre is a non-governmental organisation. As a non-profit making voluntary organisation it totally relies on donations and alms giving.
Outreach clinics are carried out in various villages in Mbale district by Community Based Rehabilitation (CBR) workers. The children are assessed in these clinics and referred, treated or advised on correct interventions. Surgery is carried out at CoRSU Rehabilitation Hospital, Cure Hospital, Mbale, Kumi Hospital, Mbale Regional Hospital and Tororo Optic Centre. Physiotherapy work continues at the centre and in some outreach clinics. Two local people have been trained as CBR workers and they carry out their work in the communities using cycles, motorcycles and on foot. Through the CBR programme, the community and the PWDs (people with disability) have become aware of the services rendered by the Centre and they are showing a positive response to the programme.
Physiotherapy work is begun from the date of admission to surgery and post operative. Post surgery care is closely supervised at the Centre by the Physiotherapist and staff in that department.
Butiru's Aims
To offer short-term rehabilitation to children with disabilities.
To offer choice and opportunity to people with disabilities.
To enable clients to be self-reliant and encourage independence.
To provide orthopaedic appliances where necessary.
To provide sponsorship for secondary education to enable students to obtain qualifications to go to Commercial Colleges to study Carpentry, Tailoring, Electrical Engineering, Nursing etc., and to Universities.