The Project
We have been involved at Kiwoko for many years. FOAG's initial involvement was sponsoring VSOs, of which Sue Hocking was one. She was at Kiwoko Hospital in charge of setting up the nurse training program. It wasn't long before we discovered that Sue was using the money we sent to her to help pay the fees of some of students who otherwise couldn't afford to do the training. Before long she was sending us a list of those she considered promising but who were unable to pay. FOAG began to support these students and we have helped an average of 3 per year since 2000. This being the case, the contribution of FOAG-trained nurses to healthcare in Uganda is really significant and something our supporters can be very proud of.
Kiwoko Hospital has its own website and 'Friends of Kiwoko'. Find it at http://www.fokh.org.uk
The Future
FOAG is working with Kiwoko Hospital to look for ways to better support our other projects. This way your donation goes further and all parties benefit to the max. For example Kumi Hospital has a huge need for trained staff and being in a very isolated part of Uganda, it struggles to attract staff. So now Kiwoko Hospital now prioritises the FOAG bursaries for trainees who have committed to work at Kumi Hospital after they graduate.
In cases where a capable student is being held up by a shortage of qualifications, FOAG are helping with support for further academic study prior to commencement of nurse training. The web address for Friends of Kiwoko is http://www.fokh.org.uk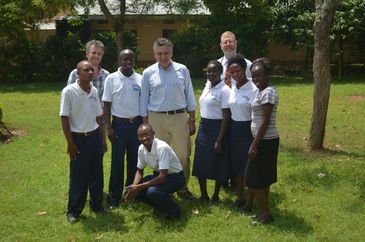 Project Co-ordinator:
Iain Patton
Like the malaria he contracted while working in Kenya, Africa is in Iain's blood! Leading FOAG's rural enterprise focus realises Iain's...