Pearls of Africa Special Needs Centres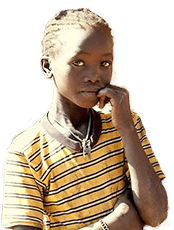 Are you able to help us support this project?
Go to our Get Involved Page to find out how you can support us.
Formerly Mengo & Guluddene Units for Children with Learning Difficulties.
We are delighted to report that after a difficult two years, both Centres, Kanyanya and Guluddene, are doing well. Guluddene Centre has increased to 4 classes & the boarding section is full with 30 children in it. Last year the outside play area was extended to make it more like an assault course & we used spare materials that were not being used. An old pickup truck top was cemented in to crawl through and an old metal frame was also cemented in to help the children's balance. Kanyanya Centre in Kampala continues to change & expand its curriculum despite its very limited space. In a corner of the compound we have just finished creating a small chicken house & a few chickens from Guluddene will be brought over soon. We have 1 new class which is for special needs teenage girls but it is a catch-up programme, although most of the girls have never been to school before. This "Girls Education Challenge" is a challenge! Elizabeth, when she first joined this programme had before had everything done for her, including wiping her nose & eating. Now she can eat by herself and is slowly becoming more independent. Esther first came when she constantly drooled and wore a bib. She no longer drools so much & is growing in confidence, partly because she is not ridiculed for wearing a bib. She is becoming more vocal & sociable. This is just a taster of our Centres & children, both of which are helped immensely by FOAG support.
Patti Squire, PASNEC Manager
The Kanyanya and Guluddene sites would not be able to function without FOAG's support and Patti sends her grateful thanks on behalf of the staff and children at both centres.
Places like Kanyanya and Guluddene are few and far between in Uganda but you, as supporters of FOAG, are helping to fund these schools. We are enabling the children from with special needs to be useful to their families and not be social outcasts. It is a humbling experience to realise how much we take for granted in the UK and how low expectations are in Uganda. Every penny of your donations makes a contribution to improving the lives of the children, some of whom just would not have a life at all without your help.