Masindi Centre for the Handicapped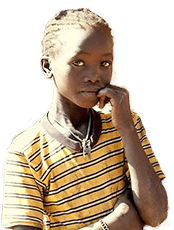 Are you able to help us support this project?
Go to our Get Involved Page to find out how you can support us.
Masindi Centre for the Handicapped (MCH) is a boarding school situated on a hillside some 10 kilometres from Masindi town, in the west of Uganda. It was started in the early 1980s by Livingstone Barongo with just one room for 20 handicapped children. FOAG's first visit to MCH was in 1988 and since then we have provided financial support for the children, for livelihood projects and towards the general running costs of the centre.
Eseri Kaifi is the headmistress and she leads a dedicated team of 15 teachers and 20 support staff. There are currently around 100 children in the centre, with an equal mix of girls and boys. Their handicaps are varied and include deafness and autism as well as physical handicaps. The emphasis is on the appropriate education and vocational training to enable the children to re-integrate into family and village life with skills such as knitting, sewing, agriculture, woodwork and computer operating. As each child leaves the centre they are given a resettlement pack to enable them to earn a living in such roles as tailoring, carpentry or leather work.
Janet Ahuuru (Pictured) was recently fitted with a new leg prosthesis, thanks to you our donors.
Eucalyptus Tree Project
Over several years FOAG has provided funds to enable seedlings to be purchased so that a woodlot could be established, including £500 last year to enable a further two acres to be planted. This brings the total area of woodlot to 8 acres. Each year a quarter of the woodlot can be cut to provide fuel – it is a great cost saver for the centre. Additionally this year the school has sold wood, raising around £270 which has been used to fund roof repairs.
Sponsorship
Parents are required to pay £25 per term to pay for food for their children. For some parents this is impossible so currently eight children are being sponsored by four FOAG donors.
Latest News
Bring together tropical sunshine, adequate rain and a little care and you can almost see the trees you have just planted growing in front of you! FOAG has funded tree planting in Masindi for 4 years and already the first have been harvested. The trees are critical, not least because they provide a reliable source of firewood to cook meals for the children who live in the centre during term time. And with global food prices rising it is encouraging to see all the farm land at Masindi Centre now planted with cassava which, when harvested, will make a simple yet filling meal for the children and staff who planted it. MCH continues to be a dependable provider of specialist care and teaching for children with a very wide range of disability.
Total given last year - £7,437.00