Grow More Food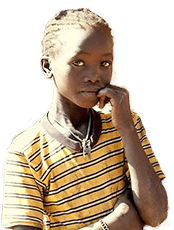 Are you able to help us support this project?
Go to our Get Involved Page to find out how you can support us.
Supporting the adoption of Sustainable Agricultural Practices
The Context in Rural Uganda
Rapidly increasing rural population; 65% of population involved in agriculture
Grain yields per hectare falling, at best static
Climate change (more erratic weather patterns) is reducing yields
Conventional systems of farming are failing to deliver food security – well recognized and reported
Soil fertility declining because of continuous cropping and inappropriate management
The Need
To reverse the trend of declining soil fertility
To demonstrate systems of farming which are market and weather resilient
To demonstrate systems which are financially rewarding in the small holder context
FOAG's Response
It is now widely appreciated the world over that soil fertility and farming sustainably can be improved by minimising disturbance of the soil, building organic matter levels, maintaining a green cover and employing legumes in the rotation. Furthermore, in an environment such as Uganda, leguminous shrub trees fixing nitrogen and providing dappled shade can enhance soil fertility. The system, known as conservation agriculture (CA) with agroforestry, is practised in neighbouring countries and promoted by FAO (Food and Agriculture Organisation).
Conservation agriculture (CA) attempts to achieve 'resource-efficient' crop production by utilizing three farming principles: (1) minimum soil disturbance, (2) maintaining a soil cover of crop residues and/or a green crop (3) diversified crop rotations. These three components of CA practiced jointly, aim to maintain an organic covering on the soil. This covering increases the soil organic carbon content, improving fertility, soil structure and soil biota levels. Furthermore, planting the food crop in "alleys" formed by leguminous shrub trees enhances soil fertility, can help reduce soil erosion, and provide useful fuel wood and mulch material.
To promote the adoption of CA and agroforestry we have partnerships with NGOs in Eastern Uganda aimed at demonstrating and supporting farmers in practice of CA.
The first partnership is with the Eastern Archdiocesan Development Network (EADEN), Tororo, an NGO working with farmers in the adoption of improved agricultural practices. EADEN, in conjunction with Patrick Kiirya, and independent agricultural adviser experienced in agroforestry, will work with local farmers to establish three demonstration plots. Farmers from existing cooperatives have been selected to establish and run three demonstration gardens. Local experience and that from neighbouring countries will be distilled into a plan and training manual. In the second year these demonstration gardens will be used as the basis for training more farmers. Sustainability for the long term will be achieved by involving local government extension workers and working through the cooperative's structures.
The second partnership is with the four Cheshire Home and Rehabilitation Centres at Budaka, Butiru, Soroti and Ngetta near Lira (these Centres are described individually under Our Projects). To facilitate this we have enlisted the services of Patrick Walusansa. He has been involved in the grain monitoring of the FOAG Waste Less project, but his expertise as an agriculturalist is in sustainable growing systems. The Rehabilitation Centres have long wished to be able to more successfully and sustainably feed themselves by growing crops on their plots. Farm managers have been recruited to help run the Centres plots and work with local farmers in promoting CA. It is the aim that the Centres' plots will act as demonstrations of the principles of CA and agroforestry, and the local farmers will form groups to trial, adopt and demonstrate CA and agroforestry practices.
The benefits of CA and agroforestry are not always immediate, and as with all agricultural endeavours there are many variables involved which can frustrate the intended outcome. FOAG intends to support these initiatives for the long-term to ensure that the adoption of CA and agroforestry is a success.
More information: If you would like to know more or discuss this project, please call Michael Bentley, our Trustee for this project, on 0773 405 8728.
Ugandan comments on Conservation Agriculture
Views of Patrick Walusansa, FOAG's Agricultural Consultant in Uganda written in October 2020:
Children's centres seeking for donations to meet food bills is unsustainable but supporting them technically and financially to grow their own food in a more sustainable manner is the solution to their continued food insecurity and lack of income; despite possession of some arable land. The centres now need to redirect the minds and efforts to doing farming as a business with a laid out business plan.
With the introduction of Conservation Agriculture (CA), the project is beginning to re-shape the way farming is done at the various centres, both in practice and mind set. There is a gradual transition from the conventional ways used before to the more sustainable and more climate resilient conservation agriculture practices (minimum tillage, crop rotation, alley cropping with leguminous shrubs, cover cropping/mulching). The integration of vegetable growing is a plus to diversify centre income and better children's nutrition. After 2 seasons of the project, the various centres are beginning to realize the impact of the project in terms of; improving productivity (500 kgs of maize to 1000 kgs per acre), improving food security, human capital development (in CA skills & knowledge) & job creation, reduced production costs, income & savings, and turning into CA resource centres within their communities. Experience from the 2 seasons has proved to the centres that climate change & depleted soils are real. Weather pattern has changed and will never be what it was before; and that crop insurance is just a short term fallback position. Adopting and practicing CA is more sustainable and cheaper to achieving better yields, better farm income and better soils not only for the centres but for the farming communities.
The households/community around the plots is very keen and developing a lot of interest in what is happening on the plots and gardens. This is the first step to adoption. Mobilizing the community members around the plots to learn from the centres, providing a few incentives such as leguminous tree seedlings, crop insurance, and some extension services may trigger gradual adoption of CA practices, and thus create food secure and climate change resilient communities.
Questions and Answers with Sister Sylvia Aketch, who is in charge of the St Francis Rehabilitation Centre at Pamba, Soroti taken in October 2020 (please note that we have not edited the responses - they are as written by Sr Sylvia):
1. What is your name?
Sr. Sylvia Aketch of St. Francis Rehabilitation Centre Pamba Soroti.
2. How many children and staff that need to be fed daily?
3. Why is this grow more food project needed?
It has relieved me from stress of having to buy everything from the market from our small budget/ incomes.
4. What is it like to have to buy all the food?
Very stressfull and sickening and at times take food on credit
5. How has the project changed your life?
Lessen the burden of having to buy and budget for all food stuff including small items like tomatoes & onions
6. How has the project changed your Centre for the better?
The children and staff have enough to eat and a better diet all through.
7. What has its impact been on food security?
During Covid 19 lockdown we stayed at Centre safely, we only had to grind enough for those who were around and bought a few items to supplement maize meals,
8. What has its impact been on income?
For 2 project seasons, we have earned 346,000UGX (Editors note about £72) from the vegetable sales, happening for the first time
9. What has its Impact been on well being and self-esteem?
It's affirmative because of the confidence that there is something for those under the care
10 What has its impact been on satisfaction?
We are gratifull for the support our prayer God gives us good whether for beeter yields since we are in a dry spell area.